I accepted a deposit from a CC member for a custom wallet a very very long time ago and shortly after had some difficulties that pretty much took me off the grid for a while.
I have since lost all correspondence with this member and cannot remember his name or screen name.
The only thing I have is this image that he wanted on his wallet, which I think he had as an avatar for a while.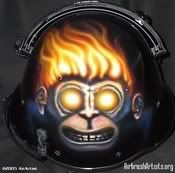 If this looks familiar and you may know who this member is, I would very much like to get in contact with him to make right on this deal.
Thank you so much in advance for any info you can provide.
KK