Quote:
Originally Posted by
coolcat2002
The brake tab on the swingarm is really beefy; 1/4 inch thick.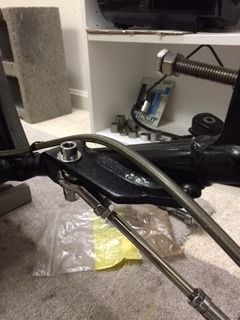 I just wanted to weld on a small brake stay tab because this doesn't look right...
Did HD over engineer this?
No they didn,t. It,s for a bracket that has a matching slot to go over that tab.
I have a kraftech frame that came with that standard tab, I created a bracket for my grimeca ( like brembo) caliper that slides over that tab.
On another bike I have a similar bracket and caliper to your,s, but I placed bracket differently, my caliper faces to 3 o'clock , and the stay hole of the bracket to 4-5 pm The stay is very short runs parallel and on the top of the existing tab. I simply drilled and taped a hole on it for the stay.
You can flip your bracket I think similarly and your caliper will move right within the triangle of the Swingarm, at 3 o'clock. Might look cleaner( and easier to bleed) check that out.
I hate to just remove any parts of the existing frame( I believe Pm might have exactly softail style bracket for the caliper that would slide over the tab...)
__________________
VITALY.
SORRY FOR THE UPPER CASE. CAN'T SEE SHIT.
113"s&s, Walz softail 2000/2012 prostreet
96"s&s, Daytec dyna/ softail hybrid, 1998/2010 chopper
127"Ultima, Chassis Design rigid 2013 bobber
120"Ultima, Kraft Tech FL 2014/2019 bobber